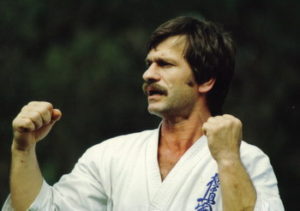 Nikola Cujic began Karate training in 1967 in his native Belgrade – Yugoslavia at the age of 15. He joined "Student Karate Club" at D.I.F. (State Institute of Physical Culture).
In 1969 his family immigrated to Australia. On arriving  Nik joined "Oyama Karate School" of Sensei Con Hardas in Newtown-Sydney. From that point onwards he has been actively involved in Kyokushin Karate to the present day.
His contribution has been in the form of Student, Competitor, Instructor, Dojo Operator, State and National Coach, National & International Judge & Referee, State & National Executive Committee Member, Branch Chief and Country Representative.
He started instructing Karate in 1973, first in Balmain-Sydney Dojo together with Mr. Dom Fania and later on his own at Sydney City Dojo at the "American Health Spa".  Since 1978 he has been teaching in Caringbah Dojo in the southern part of Sydney.  In 1999 he commenced teaching Karate professionally (full time) and in December 2001, together with his wife Joy, opened his present full time Dojo.
In the early 70's Nik competed in point system competition with some success and got to represent Australia at the 1st Asian Pacific Tournament in Singapore in 1973.  From 1974 onwards his main interest has been Full Contact (knockdown) training and competition.
In 1977 he became the first Australian Full Contact Champion (Heavyweight) as well as Grand Champion (Yokozuna). Sosai Mas. Oyama was guest of honour at this event and he personally promoted Nik to 2nd Dan in recognition of his achievement.  Also present were Mr Takashi Azuma (currently with Didojuku) and Mr Daigo Oishi (currently with Kyokushin Rengokai).
Nik was selected for the Australian Team in 1975, 1979 & 1984 to fight in the Kyokushin World Tournament, however he only fought in 1984. In 1975 he severely injured his hand three weeks before the tournament and was replaced by Mr Grant Radonich. In 1979 he had College exams (Mechanical Engineering) and was replaced by Mr Gary Viccars.
In 1984 after the 3rd Kyokushin World Tournament, he retired from competition and concentrated on teaching, coaching and administration of Kyokushin Karate in Australia. Some of his students became State, National and Regional Champions and have represented Australia at International and Kyokushin World Tournaments. eg. Mr Graham Porter, Mr Tom Levar, Mr Trevor Lowe, Mr Simon Kennedy, Miss Aleksandra Ivanovic, Mr John Whitford, Mr Steven Cujic and Mr Andrew Whitford.
Following Sosai Mas. Oyama's untimely death and the political turmoil in Australia, he joined Kancho Shokei Matsui's organisation in 1995.
In 1999 he was appointed Branch Chief, and in 2001 was promoted to 6th Dan.
In his spare time Nik Cujic enjoys working with his hands in wood and steel. He has personally designed, manufactured and installed most of the Dojo weightlifting equipment, change rooms and office area, as well as all the steel structures in the Dojo for hanging bags, exercising etc.
Nikola Cujic lives the life of a Karate teacher and puts his Dogi (uniform) on six to seven days a week. He regularly travels overseas to attend Tournaments, Camps, Seminars and Conferences in Japan, USA, including Hawaii, Canada, New Zealand, Russia etc.
When asked recently what he considers is the best part of Kyokushin Karate, he answered, "Through Kyokushin I have brothers in every part of the world."